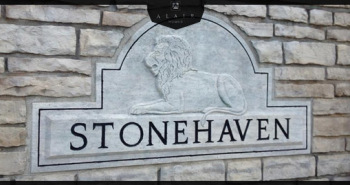 The construction of this neighbourhood started in the 90s and continues up to now with new executive homes being built in Copper Hills and towards Mulock.
Most of the houses here can boast oversized and immaculately kept lots .3 car garage. 2-storey, bungalows and bungalofts  dominate this community.
Stonehaven-Wyndham was first being occupied by a buyer who wanted to move up to a more exquisite neighbourhood and larger home. However, when executive spacious semi-detached houses with luxury finishes started being built, a wave of first time buyers from Toronto were attracted to settling in this community. A more affordable area with some semis and townhomes including a newer executive condo town complex is located in the north west corner of Stonehaven – Wyndham and is called Tapestry Lane. Few homes are backing on to ravine and conservation land which makes it very attractive for future potential home buyers.
Amenities include a state of art community centre Magna that features an Olympic-sized and three NHL-sized arenas, a 25-metre community pool and 21-metre learning pool, a full-sized gymnasium and walking track, three multi-purpose rooms, a restaurant and a pro shop. Shoppingwise, comparing to Woodland Hills or Bristol-London communities, there is very little retail available. However, most of the residents go shopping a small strip mall or to the Bayview corridor in Aurora located just within a few minutes' drive.
For families with kids, the great news is that most schools in this community are high ranked.
Newmarket High school being ranked 8.2 out of 10 by Fraser Institute and offers exceptional athletic and arts programs.
Other great schools include Stonehaven Public is 6.8/10;Sacred Heart Catholic HS is 8.1/10 and Notre Dame Catholic School is 7.1 out of 10.
Large executive homes, oversized lots, proximity to the highway 404, highly ranked schools make Stonehaven – Wyndham very attractive for move up buyers and those relocating to Newmarket from Toronto.
CLICK HERE TO CHECK HOMES FOR SALE IN Stonehaven-Wyndham Neighbourhood