Toronto Real Estate Board announced that Greater Toronto Area REALTORS® reported 11,992 sales through TREB's MLS® System in June 2015. This result represented a new record for the month of June and an 18.4 per cent increase over the June 2014 result of 10,132.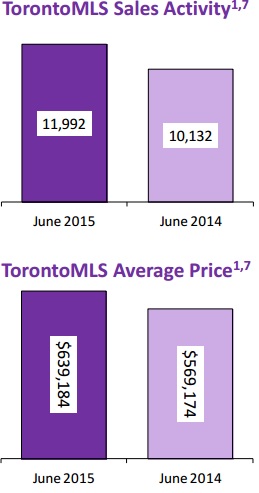 'It is important to point out that our region continues to grow in response to our diverse economic, ethnic and cultural bases. The GTA consistently receives international accolades as one of the best places in the world to live and do business. As the number of households grow, many of them will take advantage of the diversity of affordable home ownership opportunities that exist in Toronto and the surrounding areas' said The President of Toronto Real Estate Board.
Selling prices were up markedly on a year-over-year basis in June, for all major home types.
The average selling price in Toronto area was up by 12.3 per cent over the same period to $639,184.
NEWMARKET IN NUMBERS  June 2015

***Average SP/LP= Average Sold Price/Listing Price
***Average DOM= Days on Market
Based on statistics the average price of detached homes in Newmarket
has increased since June 2014 for $579,638 leading to increase of over 12%
High-end homes have accounted for a greater share of overall transactions this year compared to last year.
The annual rate of sales growth continues to far outstrip listings growth, which means that there remains a lot of willing buyers in the marketplace who haven't found a home that meets their needs. As long as this situation persists, expect home prices to trend strongly upward.
Thinking about buying or selling in Newmarket and surrounding areas, please give us a call
Nikolay Klyushkin and Tatiana Klyushkina, Sales Representatives
Sutton Group -Admiral Realty Brokerage, Phone: 
647-833-3287